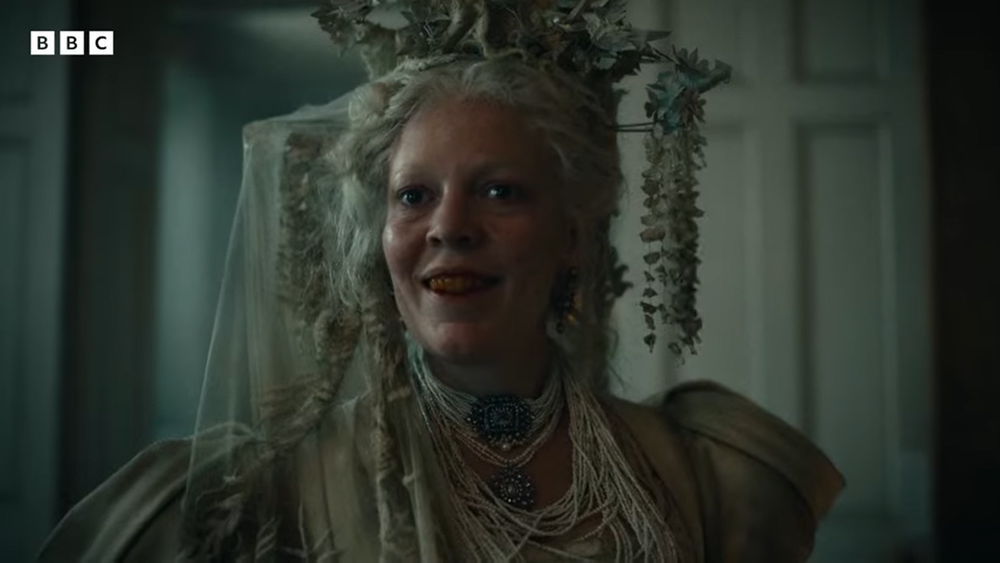 A super brief new teaser trailer has been released for the FX/BBC limited series adaptation of Charles Dickens' classic novel Great Expectations. In the clip, we get a peek at Oscar-winner Olivia Colman as Miss Havisham, and boy, is she a sight! She is joined in the series by Fionn Whitehead as Pip and Tom Sweet as the young Pip.
"Great Expectations is the coming-of-age story of Pip, an orphan who yearns for a greater lot in life until a twist of fate introduces him to the mysterious and eccentric Miss Havisham and Estella (Shalom Brune-Franklin), showing him a dark world of possibilities. Under the great expectations placed upon him, Pip will have to work out the cost of this new world and whether it will truly make him the man he wishes to be." 
The six-parter also stars Ashley Thomas (Top Boy, The Ipcress File), Johnny Harris (A Christmas Carol, The Salisbury Poisonings), Hayley Squires (Call the Midwife, The Essex Serpent), Owen McDonnell (Killing Eve, Death in Paradise), Laurie Ogden (The Colour Room, The Show Must Go Online), Matt Berry (The IT Crowd, Snuff Box), Trystan Gravelle (The Lord of the Rings: The Rings of Power, Baptiste), and Rudi Dharmalingam (The Split, Our Girl).
Peaky Blinders creator Steven Knight is running the series, as he is an avowed Dickens fan who earlier adapted A Christmas Carol for the BBC and FX. He exec produces Great Expectations alongside previous collaborators Tom Hardy, Ridley Scott, Dean Baker, David W. Zucker, Kate Crowe and Tommy Bulfin. Brady Hood and Samira Radsi are directors.
Great Expectations is produced by FX Productions in association with the BBC, Scott Free and Hardy Son & Baker.
The limited series is due to air in the spring on BBC One and iPlayer and will stream on Hulu in the U.S. Internationally, it will be available to stream on Star+ in Latin America and on Disney+ under the Star banner at a later date.
Check out the teaser below, and let us know what you think.
via : Deadline