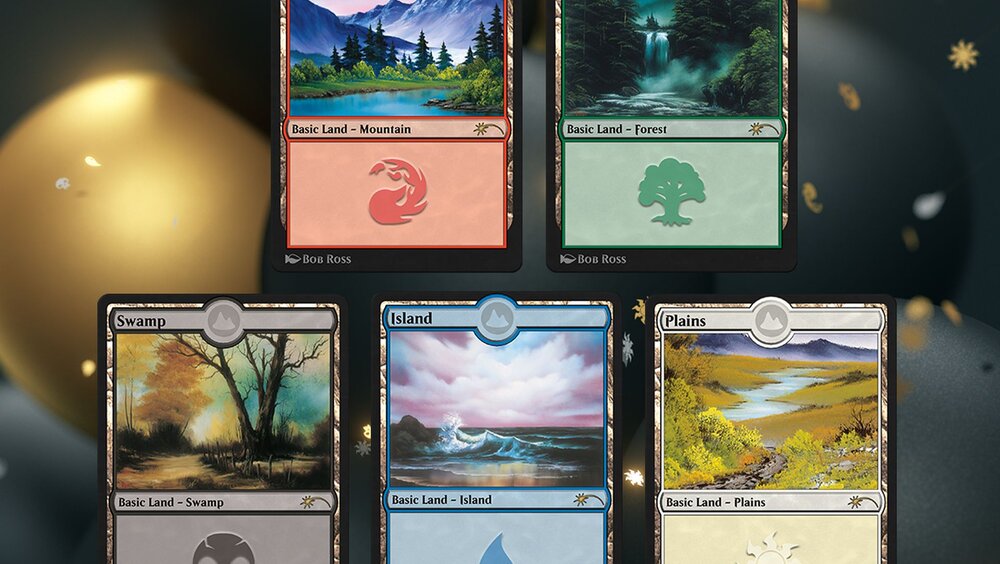 Magic: The Gathering is celebrating their first anniversary of the Secret Lair sets. To celebrate, they're dropping five awesome new sets with crazy awesome art. Fans will be able to order any of the sets between November 30 and December 14 or you can get Super Drop bundles as well (details below). Each set will also come with a single-use code for sleeves in MTG Arena.
Happy Little Gathering
This drop features 2 of each basic land as well as 1 Evolving Wilds card with unique art from the legendary late artist Bob Ross. The drop will be available in both Foil and Non-Foil versions for $39.99/$29.99.
Party Hard, Shred Harder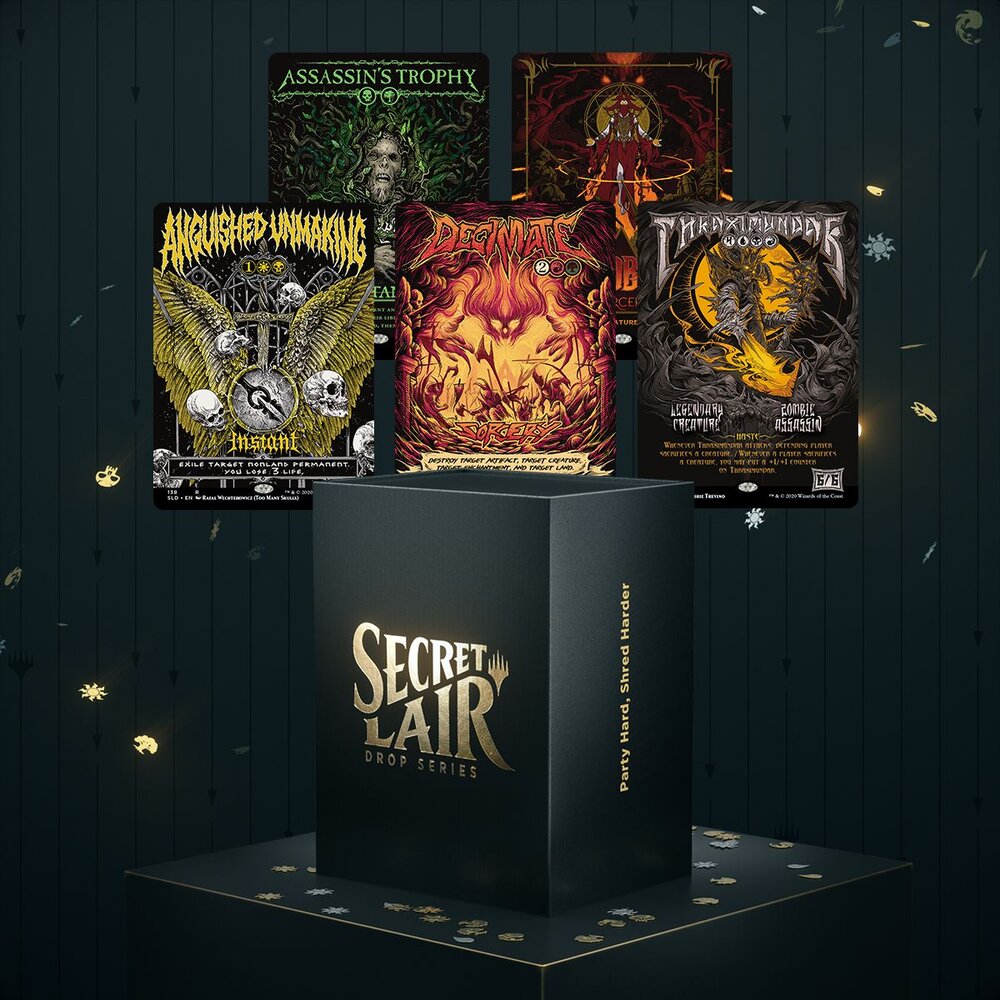 Inspired by metal music, these 5 cards have been given a makeover by Scott Buoncristiano, Illustranesia, Vance Kelly, Robbie Trevino, and Rafal Wechterowicz to be the most metal cards out there. This set will be Non-Foil and cost $29.99.
Hand-Drawn Anguished Unmaking

Hand-Drawn Assassin's Trophy

Hand-Drawn Decimate

Hand-Drawn Dreadbore

Hand-Drawn Thraximundar
Artist Series: Seb McKinnon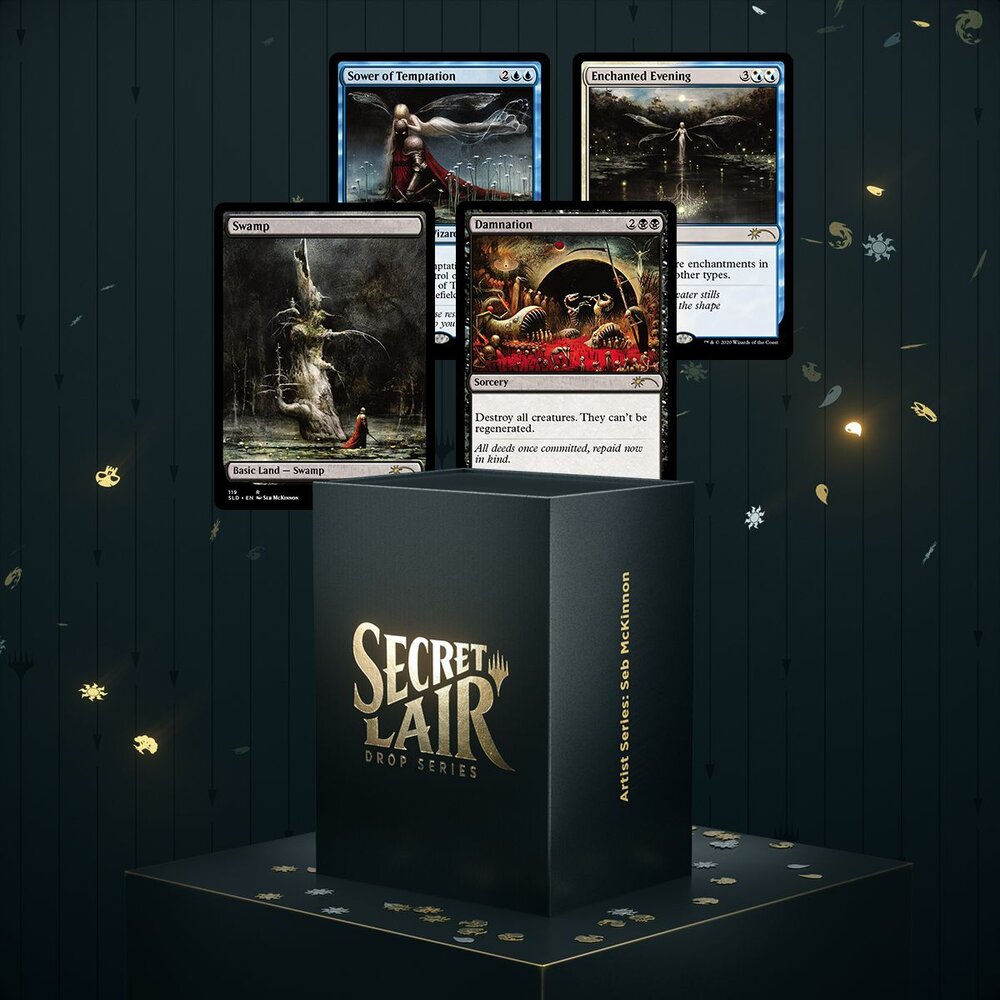 This set is all about cards with artwork from fan favorite, Seb McKinnon. The cards tell "the story of a knight's chance encounter with a faerie." Also, the set comes with a poem to accompany the artwork from McKinnon's brother Liam McKinnon. The set will be available in Foil and Non-Foil versions for $39.99/$29.99.
Alt-Art Damnation

Alt-Art Enchanted Evening

Alt-Art Sower of Temptation

Full-Art Swamp
A Box of Rocks
The cards in this set are all based on rocks and will be drawn in a pop art style. This set will be available in Foil and Non-Foil variants for $39.99/$29.99.
Alt-Art Arcane Signet

Alt-Art Commander's Sphere

Alt-Art Chromatic Lantern

Full-Art Gilded Lotus

Full-Art Darksteel Ingot
We Hope You Like Squirrels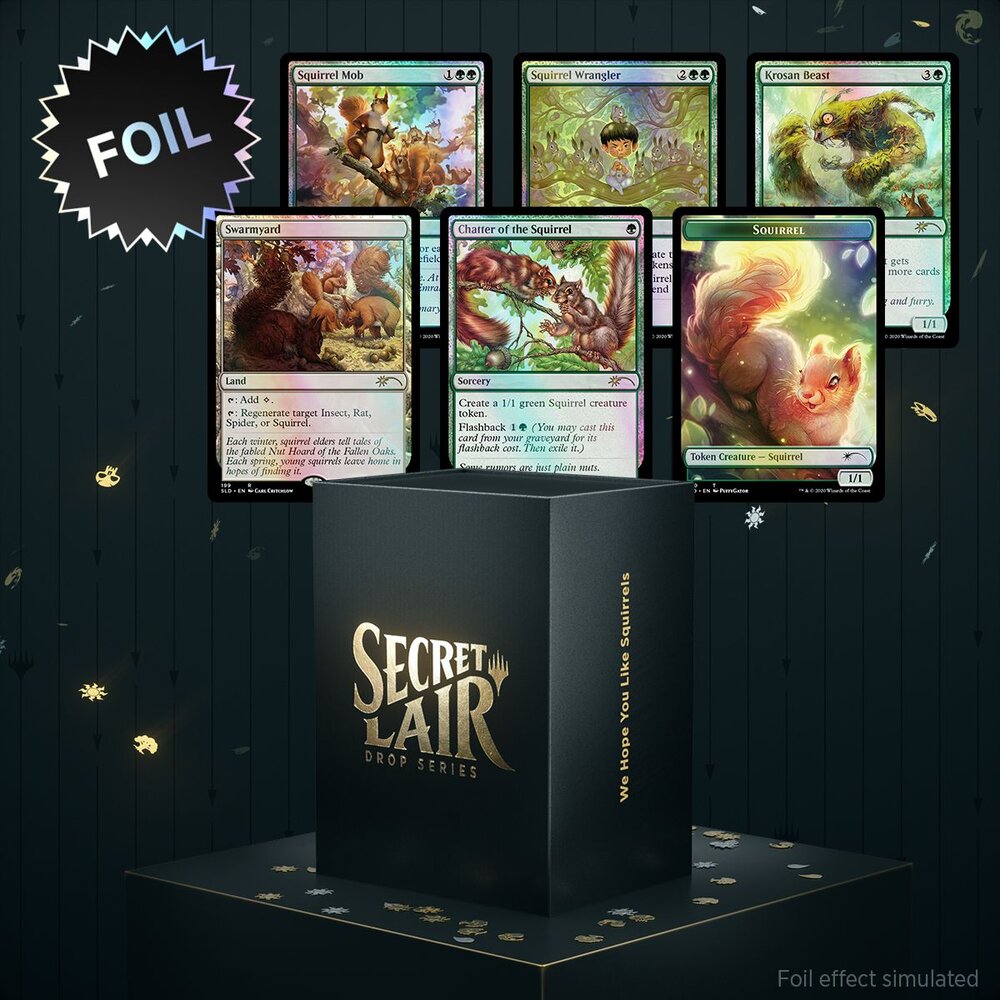 This Foil-only set will cost $39.99 and is all about squirrels because who doesn't like squirrels? Artwork for the cards is provided by Puffygator, Joy Ang, Carl Critchlow, Ivan Shavrin, Rudy Siswanto, and Ron Spencer.
Foil Alt-Art Chatter of the Squirrel

Foil Alt-Art Krosan Beast

Foil Alt-Art Squirrel Mob

Foil Alt-Art Squirrel Wrangler

Foil Alt-Art Swarmyard

Foil Squirrel Token
Superdrop Bundles
No Foils, No Nonsense Bundle

$99.99

Includes all drops available in non-foil (no Squirrels)

Foils Forever Bundle

$139.99

Includes all drops available in foil (no Party Hard)

The Bundle Bundle

$229.99

Includes both the other bundles (gives doubles of three drops)