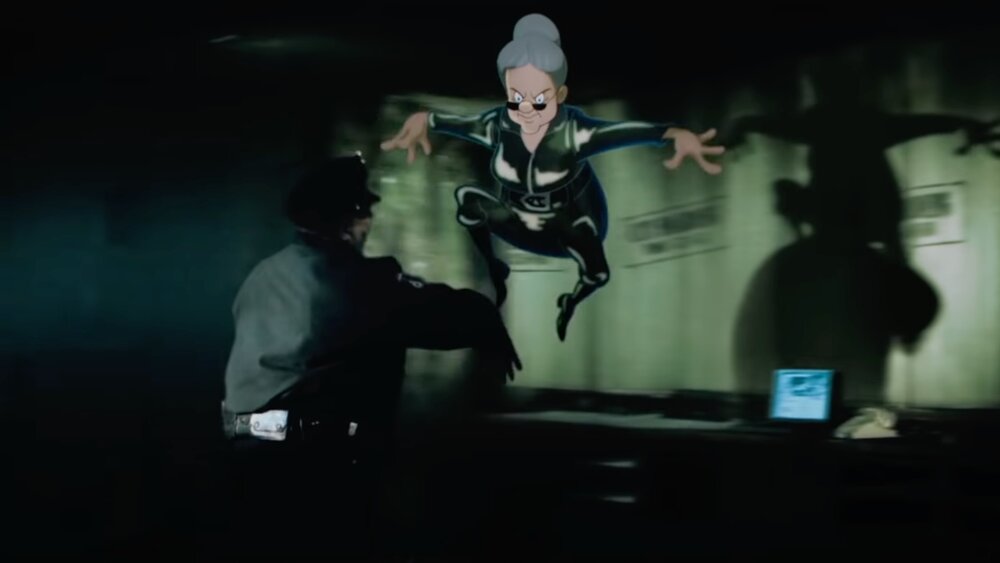 Warner Bros. has released a new clip from LeBron James' Space Jam: A New Legacy and it features a scene that is set in the world of The Matrix. The Matrix is one of several WB films that the new Space Jam movie will play with.
The clip involves a key scene from the 1999 movie where Carrie Anne Moss's Trinity character is attacked by a bunch of cops. Only Moss's character is replaced with Granny and she's wearing the shining leather jumpsuit and everything! Granny is joined by Speedy Gonzales who is shot at but manages to survive because he's so damn fast. LeBron James and Bugs Bunny then burst into the scene.
In case you're wondering why Granny and Speedy are in The Matrix it's because James, his son, and the entire Looney Tunes gang have been sucked into the Warner 3000 "server-verse", and they are jumping from one film to the other.
Space Jam: A New Legacy was directed by Malcolm D. Lee (of Barbershop: The Next Cut, Girls Trip, Night School). "When LeBron and his young son Dom (Cedric Joe) are trapped in a digital space by a rogue A.I., LeBron must get them home safe by leading Bugs, Lola Bunny and the whole gang of notoriously undisciplined Looney Tunes to victory over the A.I.'s digitized champions on the court: a powered-up roster of professional basketball stars as you've never seen them before. It's Tunes versus Goons in the highest-stakes challenge of his life, that will redefine LeBron's bond with his son and shine a light on the power of being yourself. The ready-for-action Tunes destroy convention, supercharge their unique talents and surprise even 'King' James by playing the game their own way."
The film is being produced by Ryan Coogler and also stars Star Trek: Discovery's Sonequa Martin-Green who was cast as LeBron's wife, Don Cheadle as the rogue AI named Al-G Rhythm, Ceyair Wright who plays the older son Darius, and Harper Leigh Alexander as his daughter Xosha, and Zendaya as the voice of the character Lola Bunny. Michael Jordan is also supposed to make an appearance.
Space Jam: A New Legacy arrives in theaters on July 16, 2021.